There has always been a real hole in the training material provision for people who simply aren't that great with books, manuals, computers and maybe don't even have a computer. So to make sure everyone has access to materials that can really help them when preparing for their DSC1, Galloway Field Sports developed an Audio CD in selectable tracks to play anywhere whether it's in the car, at home or work and learn for your DSC1 without having the stress of trying to digest a manual you can beat whales to death with.
With the Main Paper disc being very successful and in response to demand, we now have ready the Large Game meat Hygiene and Field Safety discs. The discs are available individually or as a set.
The individual discs also come with an allowance for the private user to make a copy for use on digital portable devices such as mobile phones, iPods or other portable media players.

3 Disc Set inc p&p - £18.50 for the set as pictured
Colour Single Disc inc p&p - £8.50 for the disc in colour DVD case
Budget Single Disc inc p&p -
£6.50

for individual discs in a simple sleeve only
- paypal, cheque, bank transfer accepted PM for more details
BUY ONLINE WITH PAYPAL HERE
New DSC1 Audio Discs for Hygiene Safety Available | Galloway Fieldsports
FREE SAMPLE - Main Paper Disc - Track 3 - Safety
Safety - DSC1 Audio CD Deer Stalking Certificate - YouTube
Main Paper Disc
1) Biology and Ecology
2) Stalking Equipment and Techniques
3) Safety Track
4) Legislation England and Wales
5) Legislation General
6) Legislation Scotland
7) Firearms and Ballistics
8) Roe Deer
9) Fallow Deer
10) Red Deer
11) Sika Deer
12) Muntjac Deer
13) Chinese Water Deer
Game Meat Hygiene
1) Behaviour
2) Parasites
3) Condition & Inspection
4) Contamination
5) The Law
6) Larder Practices
7) Actions & Responsibilities
8) Disease
9) Chemicals
10) Food Safety
Field Safety
1) Rifle Handling
2) Stalking with Others
3) Equipment
4) Stalker Responsibilities
5) Backstops
6) Shooting
7) Contamination Risks
8) Firearm Security
9) Hill Stalking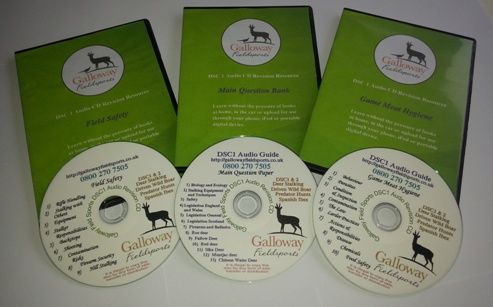 Delivery target is 2-3 working days from payment
Last edited: